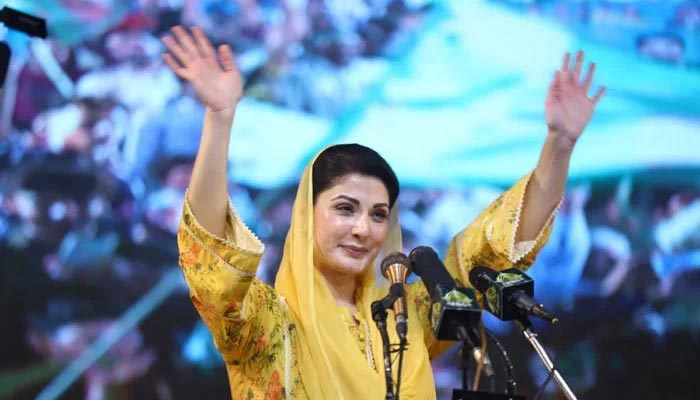 Maryam promoted senior vice-president with immediate effect.
Maryam authorised to re-organise party as "chief organiser".
Ishaq Dar congratulates PML-N leader on her appointment. 
---
Prime Minister Shehbaz Sharif on Tuesday promoted Maryam Nawaz to Pakistan Muslim League-Nawaz's (PML-N) senior vice-president, announced Information Minister Marriyum Aurangzeb in a statement. 
Issuing the notification which was signed by PM Shehbaz, the information minister said that the prime minister has announced the organisational decision of the party. 
"Pursuant to the powers conferred under the Constitution of Pakistan Muslim League-Nawaz, the undersigned is pleased to appoint Ms Maryam Nawaz Sharif as "Senior Vice President" with immediate effect," stated the notification. 
The statement said that Maryam is authorised to re-organise the party at all functional tiers/levels as "chief organiser".
Meanwhile, Finance Minister Ishaq Dar congratulated Maryam on the occasion and offered his best wishes for her.
"Heartiest congratulations and best wishes for Maryam Nawaz Sharif on her appointment as SVP/Chief Organiser of PML-N by the party President Shehbaz Sharif in consultation with the party Quaid Nawaz Sharif," Dar wrote.
Maryam was appointed one of the 16 vice-presidents of the party on May 3, 2019. 
Her appointment was challenged by Pakistan Tehreek-e-Insaf (PTI), which had expressed its reservations. The then-foreign minister Shah Mehmood Qureshi had questioned how a person, who has been sentenced by a court, can be appointed as vice-president. 
Maryam has been highly active in running the party's election campaigns and holding public gatherings in different cities. 
Currently, Maryam is in the United Kingdom with her father, PML-N supremo, Nawaz Sharif.