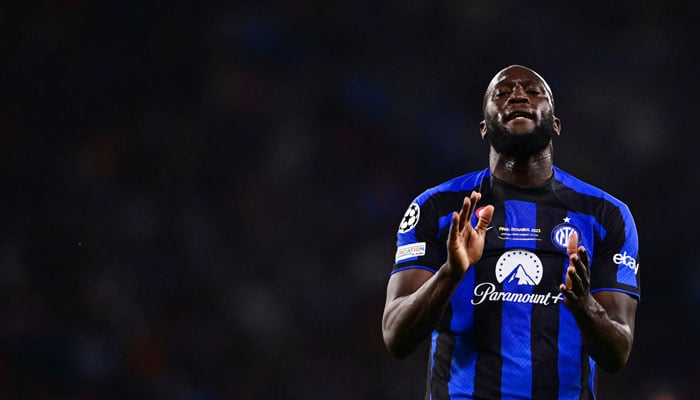 English club Chelsea are considering offloading Belgian striker Romelu Lukaku but are reportedly unhappy with the latest offer submitted by Inter Milan for the forward.
Lukaku, 30, who re-joined Chelsea from Inter for a record €100m fee, left for Inter again after a season on loan for one year.
After completing his one-year loan with the Italian club — where he also played a UEFA Champions League final against Manchester City — he returned to the Blues on June 30.
However, Chelsea, who have sold out a number of their key players, are looking forward to offloading the Belgian striker as he is not in the plans of the new manager Mauricio Pochettino.
Inter's first offer for the 30-year-old was considered unacceptable by Chelsea, which was of another loan spell with an obligation to buy in 2024.
Lukaku has had various offers from the Saudi Pro League as well but the Belgian dismissed the option to play in the Middle East as he believes that he still has much to offer in the top-flight European football.
Chelsea have already sold important players like Kai Havertz, Mason Mount, N'golo Kante, Mateo Kovacic, Kalidou Koulibaly, Eduardo Mendy and many others.
Earlier, Pochettino — who is looking forward to building a completely new team with a proper system —said that a customised training regime will be used to unlock the full potential of Enzo Fernandez, Mykhailo Mudryk and Raheem Sterling.
"Different players arrived in different circumstances but of course now is an opportunity," Pochettino told Chelsea's website, outlining his plans for the team ahead of the pre-season.
Chelsea will begin pre-season in the United States with a match against National League champions Wrexham on July 19.
"I hope we can help them to achieve their best level, a higher level, and try to perform for Chelsea in the way that people expect," he said.
"Now is a new start, a fresh start, and I think they need to show their real quality. But we need to create this platform for them to feel comfortable and breathing space for them to perform and improve."
Pochettino also stated that Mudryk's "mindset and everything is different" than Fernandez's, which is why he will look to spend more time with the 22-year-old.
The experienced Sterling has not been able to live up to expectations after leaving Manchester City, where he won 10 major trophies, having scored just nine goals in 38 appearances for Chelsea.
"It's not always to blame the player… We need to see us and see what is going on and why they are not performing in the way that we expect and then, of course, when all is clear, we cannot give excuses to them to not perform." Pochettino added.