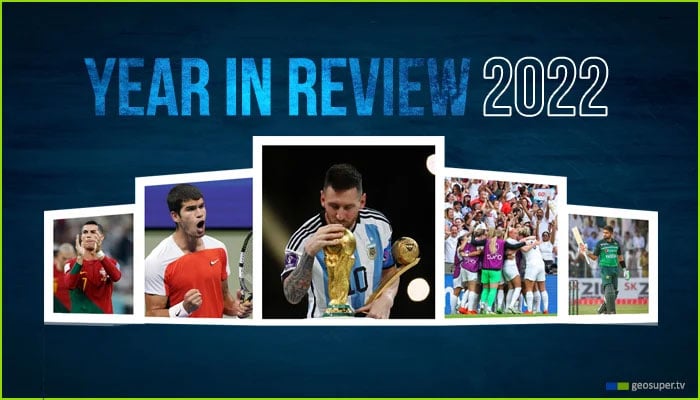 Statistics play a major part in sports all around the world and it's rising in importance with every passing day.
As 2022 ends, we take a look at some mind-boggling stats, from the field of sports, which made the headlines throughout the year.
Sydney Thunder 15 all out
Sydney Thunder were dismissed for the lowest total, 15, in T20 cricket during their Big Bash League (BBL) match against Adelaide Strikers at the Sydney Showground Stadium in the 13th edition of the tournament.
Thunder's innings lasted just 5.5 overs — the shortest completed innings in men's T20 history.
The record was previously held by Turkey, who were dismissed for 21 against the Czech Republic in 2019.
A breakthrough year for Carlos Alcaraz
At the 2022 US Open, Alcaraz created history by becoming the first male teenager to win a major championship since Rafael Nadal.
The 19-year-old also surpassed Australia's Lleyton Hewitt's previous mark for the youngest world number one in the ATP rankings.
Most goals scored in a FIFA World Cup
This year's World Cup had the most goals ever scored — 172— after the six-goal final between France and Argentina.
171 goals were scored in the 1998 and 2014 tournaments, which set the previous record.
Records galore for Messi at FIFA World Cup 2022
Lionel Messi beat Germany's Lothar Matthäus to claim the record for most FIFA World Cup games played by a player with his victory in the 2022 World Cup final (26).
The Argentine also made history by becoming the first person to score in every World Cup round. Messi scored goals during the group stage, a round of 16, quarter-finals, semi-finals, and the final.
Most 50-plus runs by a Pakistani in a calendar year
Pakistan all-format skipper Babar Azam created history after scoring a half-century during the national side's third Test against England at the National Bank Cricket Arena.
Babar overtook former skipper Misbah-ul-Haq as the batter with the most — 23 — 50-plus knocks in a calendar year for Pakistan.
Misbah held the record previously, hitting 22 fifty-plus strokes or more in 2013.
Ronaldo becomes first male player to score in five World Cups
Cristiano Ronaldo made history during Portugal's FIFA World Cup 2022 group-stage clash against Ghana at Stadium 974 on November 24 as he became the first player to score in five World Cups.
Ronaldo has a record 18 World Cup appearances for Portugal and is the most prolific goal scorer in men's international football.
England smash 112-year-old Test record
On day one of the first Test of the two-match series in Rawalpindi, England's batters set a new record against Pakistan.
At day's end, England had scored 506-4, which broke the record for the most runs (494) scored on the first day of a Test match, which had stood for 112 years. Australia had previously set the record against South Africa in 1910.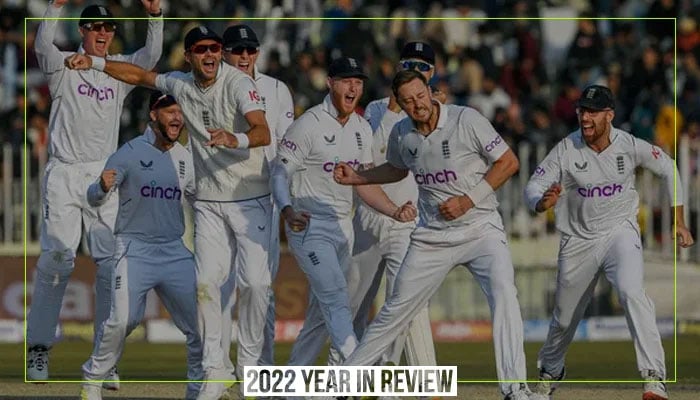 Rashid Naseem registers another Guinness world record
Pakistan's Rashid Naseem entered his name for the 82nd time in the Guinness Book of World Records.
Rashid tried to break the record for "unscrew bottle caps with a nunchaku". The Pakistani completed the task in only 8.79 seconds, which was better than the previous record of 11.85 seconds.
Rashid officially broke Yue Haichuan's record for China when it was approved.
Pakistan lose four Test matches in a row
Pakistan lost four Test matches in a row on home soil for the first time in their history after being whitewashed by England. They also lost a Test match against Australia during the same year.
Babar-Rizwan partnership vs New Zealand
Pakistani opening batters Babar Azam and Mohammad Rizwan were sensational against New Zealand in the semi-final of the ICC Men's World Cup 2022 in Australia.
The two top batters amassed 105 runs for the first wicket, helping the green shirts book a final spot against England.
More than any other opening pair in the tournament's history, the Pakistan openers' 105-run stand marked their third-century partnership in a Men's T20I World Cup.
Biggest Women's EURO crowds
A total of 87,192 spectators witnessed England's final win over Germany at Wembley Stadium, bringing the total aggregate attendance to over half a million for the UEFA Women's Euro.
The previous record crowd for a Women's EURO game stood at 43,301 before a ball was kicked in England, that figure dating back to the 2013 final between Germany and Norway in Solna, Sweden. It was promptly smashed in the opening game of the 2022 edition as 68,871 fans turned out to watch England edge a 1-0 win against Austria.
Nadal's 22 Grand Slams
Spanish tennis legend Rafael Nadal won his record-extending 22nd Grand Slam championship at Court Philippe-Chatrier by defeating Casper Ruud 6-3, 6-3, 6-0 in the men's singles French Open 2022 final.
He also won the French Open for the 14th time. Despite being broken on a few occasions by Ruud, Nadal maintained his composure and won the match in under three hours.
He broke the record for the oldest player to win the French Open with his victory over Ruud.
Most summits of K2 in a calendar year
According to the Alpine Club of Pakistan, a record number of K2 summits were reported during the summer season of 2022.
The second-highest peak in the world was summited by 87 climbers, including 73 men and 14 women. There have never been as many summiteers in a single day, season, or even year. 38 of the climbers were from Nepal, meanwhile, 17 were from Pakistan.

Originally published in

Geo Super